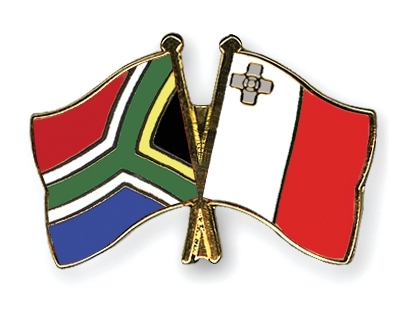 There are several Non-European Nationals considering moving to Malta again due to the recent changes in the law related to residency in Malta made by the new Labour Government where they have reduced property price minimums and completely removed the 500 K bond to provide further incentivise investment and residency in the country. Property in Malta reports that there have apparently been several new requests from South African Nationals considering Malta as their new Malta residence Scheme. Speaking to a South African national about recent developments who wished to remain anonymous said "Malta is on the same time zone, the weather is almost like home and being an ex-British colony means that there is a great British influence which has resulted in the fact that most Maltese speak in English." "Most importantly there is practically no crime rate which is very inviting."
On the 16th of May 1997 Malta and South Africa signed a double taxation treaty which means that South African Nationals that claim Malta as their residence will only have to pay tax in Malta. The two states have a long term trade relationship with the Maltese exporting mainly pharmaceuticals, machinery and mechanical equipment to the African destination to the tune of €2 million in 2006 and just over €850 000 in 2008 according to reports. Malta on the other hand have imported mainly fruit and nuts, beverages, spirits, and paper from South Africa in the region of €1.7 million per year on average.
Malta has a population of just over 440, 000 people and summer lasts for at least 6 months of the year, the country has every modern amenity and their properties are of a very high standard and come with decent %age of capital appreciation rate considering 95% of Europe's prices are in the doldrums. The Malta real estate market is vibrant and their coastline is spectacular with amazing oceanfront properties practically touching the beautiful blue Mediterranean Sea from where you are able to spot the fish from your terrace views. The Island also has some award winning developments in Malta namely the Portomaso Marine development in the heart of St. Julian's, Pender Gardens also in St. Julian's, Tigne Point which is overlooking the 2018 Capital of Culture, Valletta from Sliema, Fort Cambridge in Sliema, Ta Monita in the south of Malta and Fort Chambray located on Malta's sister Island amongst others. These properties offer luxury accommodations to say the least and all have their own little character and add even reason to live in Malta or Gozo.  The price minimum for Malta is €275, 000 and for Gozo and the South of Malta the minimum there is €220, 000.
If you're in Business then Malta also offers several benefits and advantages. Many a South African have taken task to base themselves in Malta and this works. The highly educated workforce and Malta Infrastructure supports businesses with very advantageous tax benefits, diminishing your corporate taxation bill to a mere 5% if your business fits within the criteria.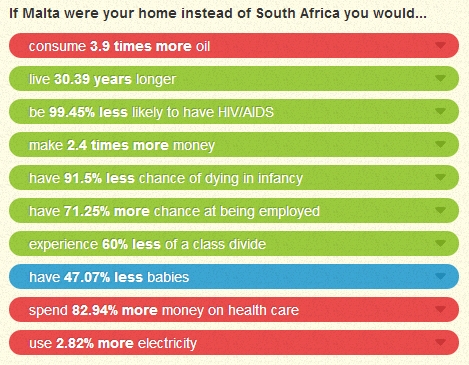 Just to add some more food for thought we've lifted this
Infographic from another website(http://www.ifitweremyhome.com/compare/ZA/MT) that compares living to Malta to living in South Africa. It does sound exaggerated maybe but statistically it is true. If you are delving into the idea of a move we think Malta could suit you. A webinar is taking place on the 26th September 2013 @ 5pm CEST. If you are interested in listening in please feel free. Here's the link