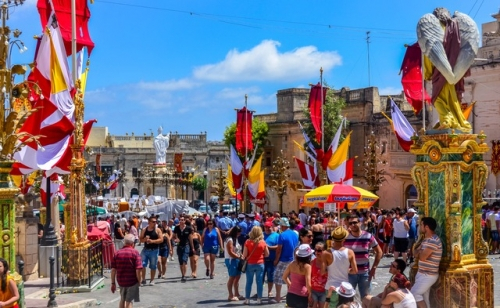 If you are thinking about purchasing or renting a home in Malta or Gozo, you may want to understand more about the cultural pull that has visitors falling in love with the sunny Islands.  Malta, without natural resources, has many other different attractions that reap plenty of business and leisure tourists not to mention the long term visitors that often start out property for rent in Malta and eventually purchase a home away from home.  Here below is a list:
Festivals
Malta is the ideal place for a festival of any kind. Here, you'll find all sorts of festivals ranging from the traditional ones (such as those to do with agriculture and religion) to the latest music festivals featuring top international celebrities. Alternative festivals abound too. Be it a music festival, performing arts festival or a traditional one, the quality varies, but are usually extremely high.
Theatre Scene
The Maltese theatrical scene is surprisingly vibrant. With only a limited number of theatres and small budgets available, theatrical companies succeed in producing shows of an incredibly high standard. These shows are generally well-known plays and musicals of the sort produced in London or New York, however recent years has seen an explosion in new writing and the production of locally-written shows.  Many foreigners visit Malta on excursions that will include a play or two not to mention the odd opera musical.
Music
Music plays a large part of the Maltese cultural landscape. Whatever your musical tastes, you'll find it alive and well in Malta. Although small, the music scene is broad and of a high standard.
Film
Many big-budget blockbusters come to Malta to shoot, relying on the island's mixture of landscape and architecture to stand in for anywhere: Europe, North Africa, the Middle East, even mythical places. Having said that, the local film scene is gaining a steady record of increasing impressiveness thanks to government grants and facilities.  Films such as Gladiator and Troy changed the impression of big-time producers and today Malta is in the running for shooting of many epics not to mention the recent Brad Pitt and Angelina Jolie film, being shot on our sister Island Gozo during Summer of 2014.  Such films attract a huge boost to the Maltese economy.  We have even had the odd celebrity buy a second property in Malta.
Art
Maltese artists draw inspiration from a huge selection of local places and stories, from historical locations and symbols such as the neolithic gods, to the religious, maritime or military traditions that are so much a part of Maltese culture. Maltese art is varied and rich, both in the modern and traditional sense.
Literature
Maltese literature is currently riding a wave of popularity that is well deserved and that unfortunately was lacking in decades past. Be it poetry, short story or novels, there are a number of extremely popular local authors writing excellently in both English and Maltese.
Alternative Scene
If you're looking for something more alternative, you might want to check out two very new scenes on the local cultural spectrum: Stand up comedy and cabaret. They're not for everyone and both are still in their very early stages of performance and development, but both are gaining quite a reputation!
Local Pride
These last few years have seen a resurgence in popularity of a more home-grown influence in the arts scene. A pride in Maltese history and traditions has resulted in an explosion of Malta-centric novels, plays, films and music. Folk bands, new writing, poetry, spoken word and a small alternative scene are finding new audiences.
Capital of Culture
Malta will be the European Capital of Culture in 2018, a title the Maltese government is taking very seriously. Plans have been underway for years with cultural entities all over the islands contributing towards what will no doubt be a memorable year for culture in Malta, with workshops and exchanges covering most aspects of Maltese culture from traditions and folklore to sports and education.
Clash of Cultures
Because of its location and size, throughout history Malta has been invaded and occupied by pretty much anyone who ever built a boat. This gives Malta a stunning mixture of culture in almost every sense of the word. From our language to our customs, food, beliefs, rituals, way of life, architecture and behaviour. It's an embarrassment of riches culturally, the like of which you'll be hard pressed to find anywhere else in the world.
So, there you are.  We've provided you a summary of some of the interesting cultural pulls.  Just to note, purchasing or buying a home in Malta will not be a cultural shock! The system is very straight forward and the legal system is solid therefore protecting your rights as a consumer.  If you're are interested in a renting or buying it is recommended that you go through a reputable estate agent in Malta.